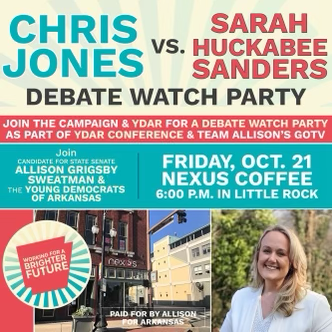 Come out and cheer on our candidate for Governor, Chris Jones, as he debates Sarah Huckabee Sanders.
State Senate Candidate Allison Grigsby Sweatman is teaming up with the Young Democrats of Arkansas for this event during the YDAR Conference Weekend.
Registered Delegates to the YDAR conference will receive free admission.
Friday, October 21st
6:00 PM – 8:00 PM
Nexus Coffee
301 President Clinton Avenue Suite AB,
Little Rock, AR 72201
Contributions will benefit Allison Grigsby Sweatman's State Senate Campaign.